SURFACE ROUGHNESS AND ROUNDNESS MEASUREMENT INSTRUMENT – Manufacturer : Kosaka Laboratory

---
Surface Roughness Measuring Instrument  
These instruments are used to measure surface roughness by tracing the surface with pick-up stylus
Kosaka Laboratory offers wide range of surface roughness measuring instrument.
From portable high performance roughness and waviness measuring instrument such as, ones that enable deep evaluation of a target surface with respect to a line and a plane, to ones that have stage traverse type with stable straightness and, to measure the precision small components.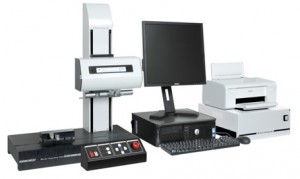 ---
Roundness Measuring Instrument
For evaluation of roundness and circularity of processed or machined components.
Kosaka Laboratory also provides high accuracy, easy operation and compact type roundness measuring instruments, which are suitable for production line side uses. Other model packages (example in this picture) have functions such as, full automatic, excellent in repeatability, best-in-class accuracy equipped with top safety functions.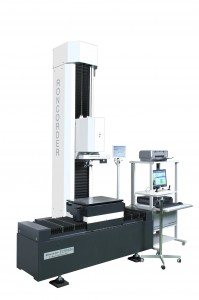 ---
3Dimensional CMM
For measuring an object using 3 dimensional coordinates (up-down, side-to-side, front-back)
Kosaka Laboratory's 3 Dimensional CMM measures an object by moving its column and arm to trace the surface of an object. It is usually used to find parallelism of 2 machined surfaces, flatness of machined surface, circularity of machined hole, angle of a machined surface from a fixed datum surface or point.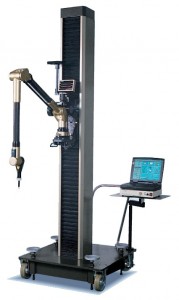 Specialty Measuring Fixture – Ohko Seiki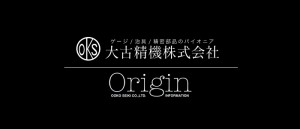 ---
Surface Run-Out Measuring Gauge
Ohko Seiki offers wide range of one-of-a-kind specialty measuring gauges that are suitable for use of both quality control lab and production line side. When industry standard gauges do not offer the way to find the critical measurements, Ohko Seiki can make gauges that can do the job for you! From small hand held gauges to desktop type and floor mount type large size gauges depending on the part size, weight and shape.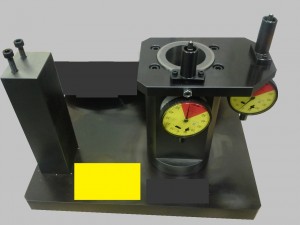 Specialty Measuring Fixture – Yanaka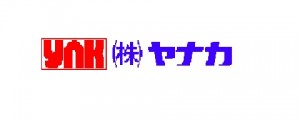 Drilled Hole Locations Measuring Gauge
Yanaka is a manufacture of customized gauges that can be used both quality control lab and mass production line side. Yanaka offers gauges that can measure the hard-to-measure areas. For example, this gauge in this picture is called drilled hole location check gauge. When machined object has multiple drilled holes, but all hole locations need to be checked at once, this gauge can do so.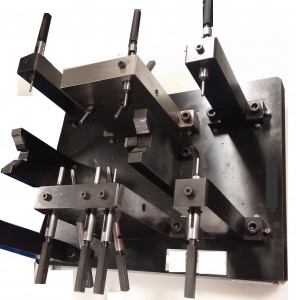 Drilled Hole Inner Run-Out Measuring Gage
This custom gauge checks the run-out of drilled hole by inserting am arm stylus into the drilled hole and by turning the part on the gauge. Dial gauge will read the run-out of the drilled hole.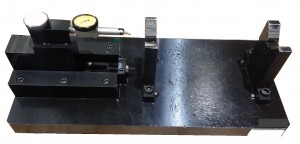 Go, Not-Go Quick Check Gauges
Yanaka also makes gauges that are hand held and for quick checking of parts tolerances. Examples of the small gauges are shown here. Go,Not-Go ring gauges to check size of the machined objects.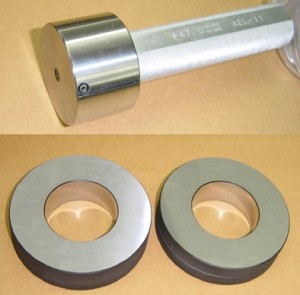 Other Quality Control Machines
Other Quality Assurance Related Manufactures
Tokyo Technical Instruments Inc. – Gear Measurement System
Daiichi Sokuhan – Custom Measuring Gauges to Specialty Gaguges
Obishi Keiki – Bench Centers for Run-Out Measuring
Citizen Seimitsu – Diameter Measuring Gauge
Peacock (Okazaki Seisakusho) – Specialty Dial Gauge, Caliper Gauges
Buehler – Abrasive Cutter, Ginder/Polisher
Tokyo Sokki – Strain Gauges
Mitutoyo – Standard Measuring Gauges
Mahr – Standard Measuring Gauges