MATERIAL HANDLING INTEGRATION – Manufacturer : KONSEI USA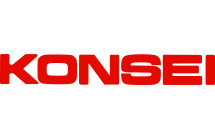 Automation Loading System (Overhead Gantry Loader)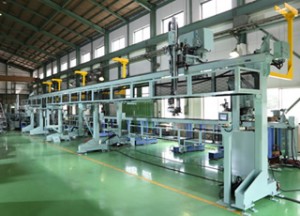 Automated parts transfer and loading system; Konsei offers wide range of overhead gantry loader that is capable of automated material handling. Some of the feature including wireless gantry that allows no damage to its cables, and other moving components of the carriage. Konsei also offers loaders that are capable of handling heavy work piece such as engine blocks and crankshafts. 
---
Automation Robotic System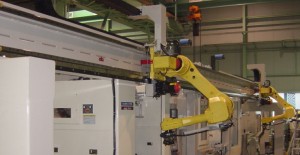 Konsei's automated robotic system allows precise and efficient material handling that enables shorter loading/unloading time and handling time between machine to next machine. Overhead gantry robots can access complex work holding fixtures with its 6-axis arm robot. It is especially useful then the part shape is odd or difficult to load/unload to machine.
---
Automation Conveyor System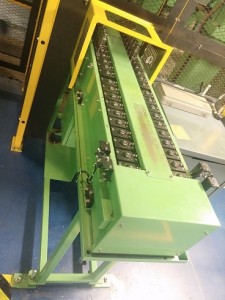 Konsei's conveyor systems are made to handle any material and can work with other peripheral equipment to accomplish total automation of the production line. Konsei's rich background for their material handling system is used even in food industries. Please ask us for clean room applications, explosion proof applications for painting, and any other applications that are unique to its part!
---
Automation Inspection, Vision and Measuring System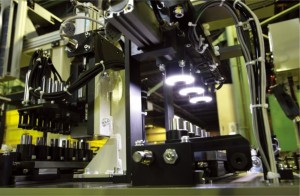 Automated inspection and measuring systems are capable of measuring I/D, O/D height, width, thickness of workpiece in the production line. Konsei can work with customer-supplied-in-line-gauges and other inspection gauges to accomplish total automation of the production line. Some can measure dimension with electric micrometer. They are also capable of automatic compensation/ feedback.
Vision systems are usually used for inspection of the part in production line. It looks at the shape of the parts created by the LED, and checks for any defects of the part (missing bolts, un-machined part, color differences).
---
Automation Tray Changer and Stocker System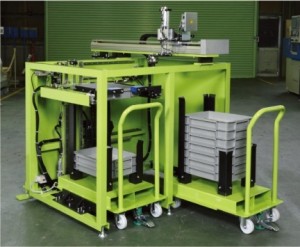 From cart type to angular tray stockers, Konsei's automated tray changer provides easy to carry features and allows pallet at ease and damage free loading unloading to protect parts from being damaged.
---
Customized Robot Gripper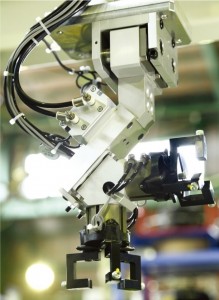 Konsei can design and make customized robot grippers to fit the simple to complex application of materinal handling needs.
Konsei also has line of standard robot grippers that can offer customer cost benefit of using the stadard grippers. Customized grippers are unique to its application and Konsei has worke on many special aplications that required customized-from-scratch grippers.
INDUCTION HARDENING MACHINE – Manufacturer : Fuji Electronics Industry CO., LTD.

Induction Hardening Machine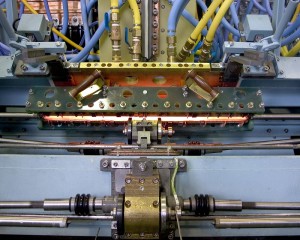 From ball screws, train rails, automotive parts to heavy machinery parts; sizes big or small, Fuji Denshi's induction hardening machines use state of the art technology that enables ideal hardening heat pattern with uniform hardening and less distortion than other competitor's. For complex part shape, Fuji Denshi's oscillation technology moves with the part's shape and heat treats the part without making a contact to the heated area which results in more uniform heat pattern.
Machines that are capable of hardening work pieces over 10m are available also for large applications.
---
Power Supply Converter/Inverter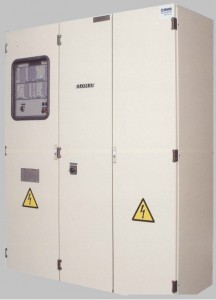 Fujidenshi's FUJI-ELOMAT converters are designed as to have P(parallel)R(resonant) C(circuits) which has allows them to overcome all the demerits disadvantages of Serial Resonant Circuit converters with serial resonant circuits.
---
Customized Transformer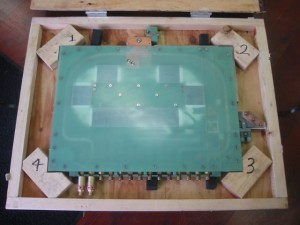 Fuji Denshi uses new style transformers that are less than 2 inch thick, making their equipment space-saver to meet customer's limited space availability condition.
---
Heating Coil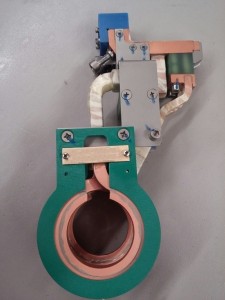 Coils that are used for Fuji Denshi 's induction heating equipment are one of the most power efficient coils in industry.
Accomplishing minimum use of the power and the efficient heating which will save customer utility bills are their organization goal, and they are doing so with their special coil designing engineers who design/make hundreds of coils each year.
ELECTROMECHANICAL DEBURRING MACHINE – Acritech Corp.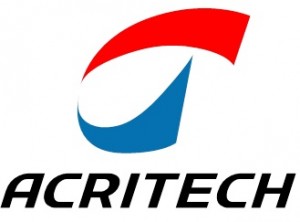 Automated Electrochemical Deburring System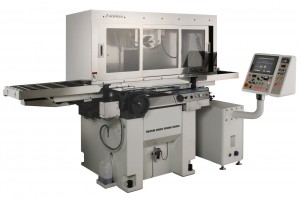 Electrochemical Deburring Machine(ECMB) removes small burrs that were caused by drilling and milling during metal machining process. The advantages are to be able to reach the hard-to-reach areas of the machined metal, short cycle time, and the size of the deburring that can be done. When some mechanical deburring simply cannot reach the desired area, this electrochemical deburring can do the job. Also when multiple locations have to be deburred at the same time, this can do the job with short cycle time, and when desired areas to deburr is like a small pin hole, this can to the job.
Picture shows full automatic equipment that has part transferring loader inside of the deburring machine with washing station in it.
---
Semi-Automatic Electrochemical Deburring Machine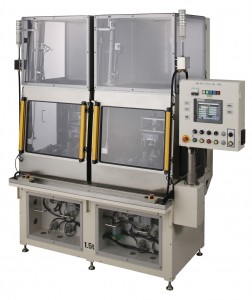 Semi-Automatic Electrochemical Deburring machines are also available for processes that can work with operator hand loading/unloading operations. This will be more cost effective than fully automated equipment.
---
Brushing Unit for Pre-Deburr Process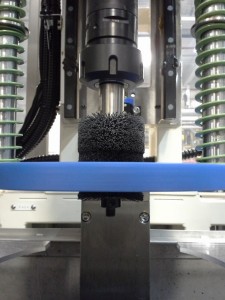 For more efficiency and precise electrochemecal deburring, Acritech also offers a brushing machine removes large burrs prior to the electrochemical deburring.
This pre-deburr brushing units can also be integrated to other machines and can be fully automated.
INDUCTION HARDENING MACHINE – Manufacturer : Capital Induction

Induction Heating Coil Fabrication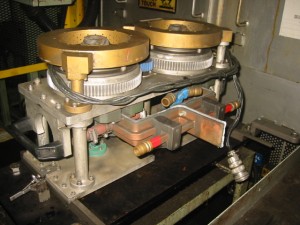 Capital Induction provides design/fabrication services of heat treat coils to suit wide range of induction heating needs.
---
Induction Heating Coil Repair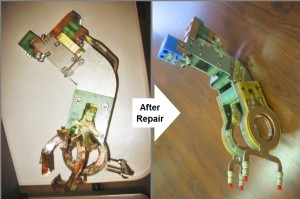 One of the service that Capital Induction offers is repair of a used coil.
When using a coil during mass production, some coils accidentally get damages.
Capital induction offers induction heating coil repairs for a fraction of a cost of getting a new coils made.
Capital induction is also a registered repair contractor is north America for all Fuji Denshi coils.
---
Transformer Repair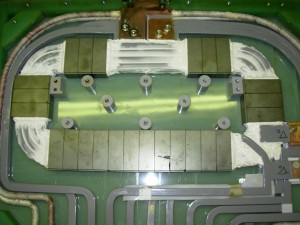 Capital Induction shares knowledges from Fuji Denshi and performs any repairing of transformers.
Repair services are better option for many times because of the cost and the turnaround time.
DIE CAST SYSTEMS – NIN Zinger (Suguro Corp)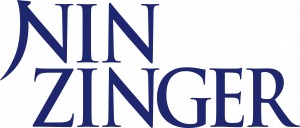 Spray Atomizer / Mixing Atomizer for die lubrication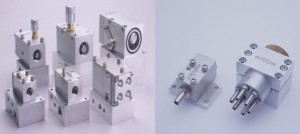 For more efficient and precise mixing and spraying of die lube, Nin Zinger carries arrays of atomizers that deliver more than satisfactory results.
When efficient spraying is a key to save running cost of die lubes, please refer to NIN Zinger's atomizers. Spraying atomizers can be customized or using standard atomizer is also a good option for more cost effective way of accomplishing customer goal.
---
Spray Cassette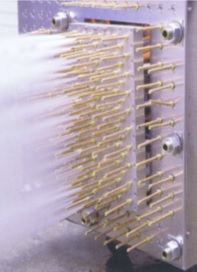 Highly durable and precise spray cassettes that can be custom designed to suit any application are available.
This spray cassette can be mounted on a robot to spray lubes to casting dies to accomplish short cycle time.
---
Spray Nozzle and Hand Spray Gun

From nozzles to hand spray guns, NIN zinger provides high quality products made to suit customer needs.
Hand spray guns can be used for small size casing dies. Nozzles can be chosen depending on the amount lube that is desired to get sprayed.
---
Automated Robot Spray System
When human intervention is not an option due to the environment and precision counts the most, you can count on the automated robot spray systems from NIN Zinger.
---
Core Pins and Insert Bush with Cooling Junction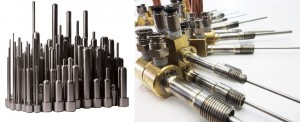 When it comes to core pin and insert bush with cooling junction, NIN Zinger's (Suguro) can offer their top notch products and also they are well known for their quality products.
SPLINE ROLLING MACHINE – NHK Builder CO., LTD.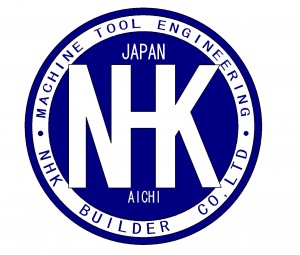 Spline Rolling Machine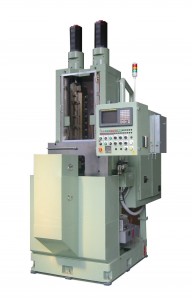 NHK rolling machine are known for high rigidity, high precision, compact body, economical for any volume production, easy maintenance, easy to be equipped with auto-loader for fast rolling process.
The rack and pinion system that is running behind the driving motor will guarantee that there will be NO pitch errors on the finished products. The machines are available in servo driven and hydraulic driven.
FACING AND CENTERING MACHINE – Nittoku Japan Kogyo (Nihon Tokushu Kogyo)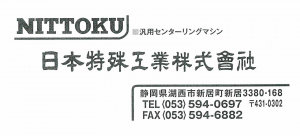 Facing and Centering Machine (Milling and Drilling Machine)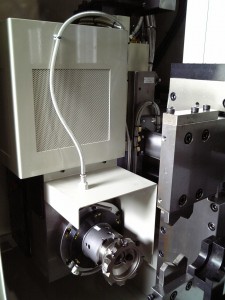 Nittoku offers high quality facing and centering machines and are highly efficient and reliable for customer's applications.
The biggest benefit of the facing and centering machine is a short cycle time. While regular lathe machine can do the same job in twice or three times in cycle, this machine can perform the same job in a fraction of the time.
Because facing and centering process is usually the first process in lathe process, the accuracy is critical and accuracy and quality is what Nittoku is offering to their customers.
ASSEMBLY EQUIPMENT INTEGRATION – Shiba System Engineering Ltd
Automated Assembly Line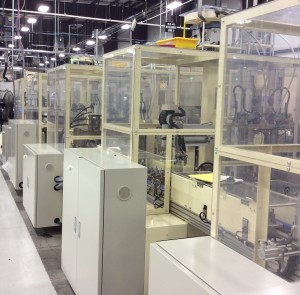 Shiba System's fully automated parts assembly line delivers efficient, consistent flow of parts assembly for safe, space and time saving production line. Some of the process in this line include, bolt assembly (torqueing), pipe pressing (bush press),  ball press, dowel pin press, and finally the inspection of all assembled parts.
---
Automated Parts Feeding and Assembly Line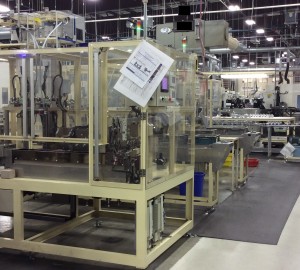 Shiba System's another automated line uses many parts feeders that allows the line to run without operator intervention and can accomplish a high functioning assembly line.
---
Automated Press System and Bolt Tightening System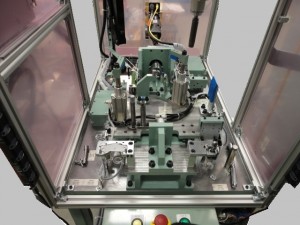 Shiba System also builds systems that will let operator do the assembly jobs.
This equipment has servo press that will press a small pipe into aluminum work piece and also has a nut runner that allow an operator to torque screws to the work piece.
OTHER MASS PRODUCTION EQUIPMENT CATEGORIES
Sinto Brator [Blasting Machine for Surface Treatment]
Sugino Corp [Machining and Water Jet Cutting, Washing adn Deburring]
TOA ELECTRIC USA, INC [System Integrations and Production Information System]
TOSEI America, Inc (ACCRETECH) [Customized Measuring System]
FOERSTER[Non-destructive Test Instrument; Eddy Current & Magnetic Crack]
Segna [Customized Fixtures for Mass Production]